Talking about social justice issues with little ones can be hard and "Little Justice Leaders" is working towards helping parents, guardians, educators and more with the tools they need to learn to navigate these conversations!
We recently had a chance to check out their new subscription based boxes and were delighted to see all the goodies inside! Started by Shelby who is currently working on her Ph.D. in Urban Education she was inspired not only by her studies but nephew to help facilitate a fun learning experience for both parents and kids on Social Justice Issues. Shelby sources products from socially conscious, small businesses owned by women and people of color and donates a portion of the money from each box sold to a non-profit working on the same issues!
So lets take a peak inside!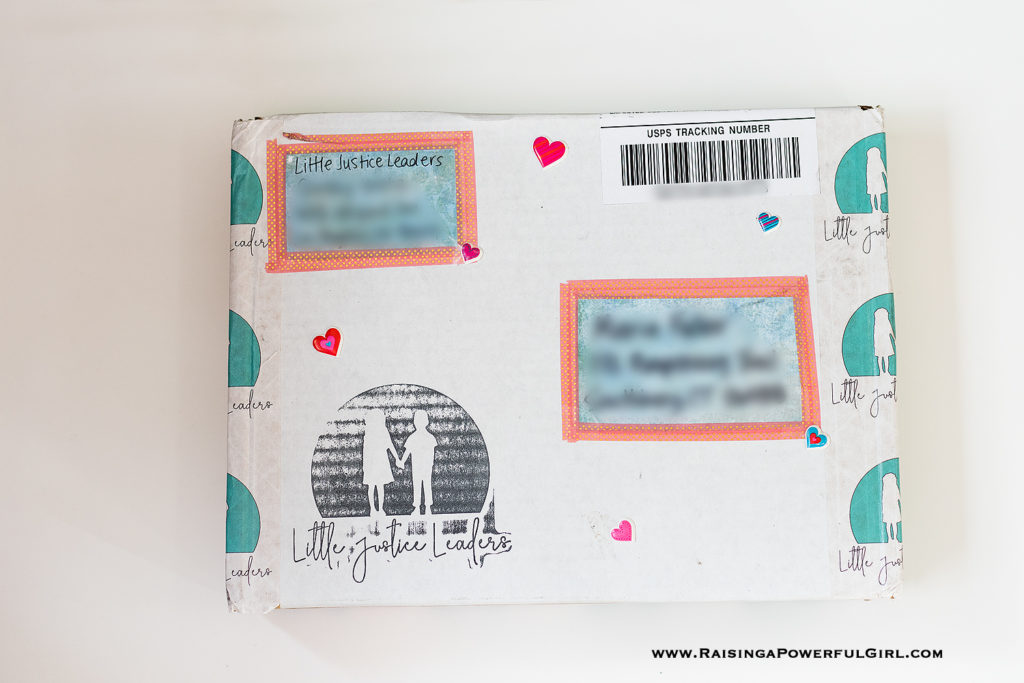 Right off the back you can feel the love when you get your first box with handwritten address, logo stamps, a sprinkling of hearts and a colorful logo tape sealing the box shut! My girls were instantly curious and excited to see what was inside!
Inside we Find a Welcome letter and on the back of it instruction on how to utilize the box!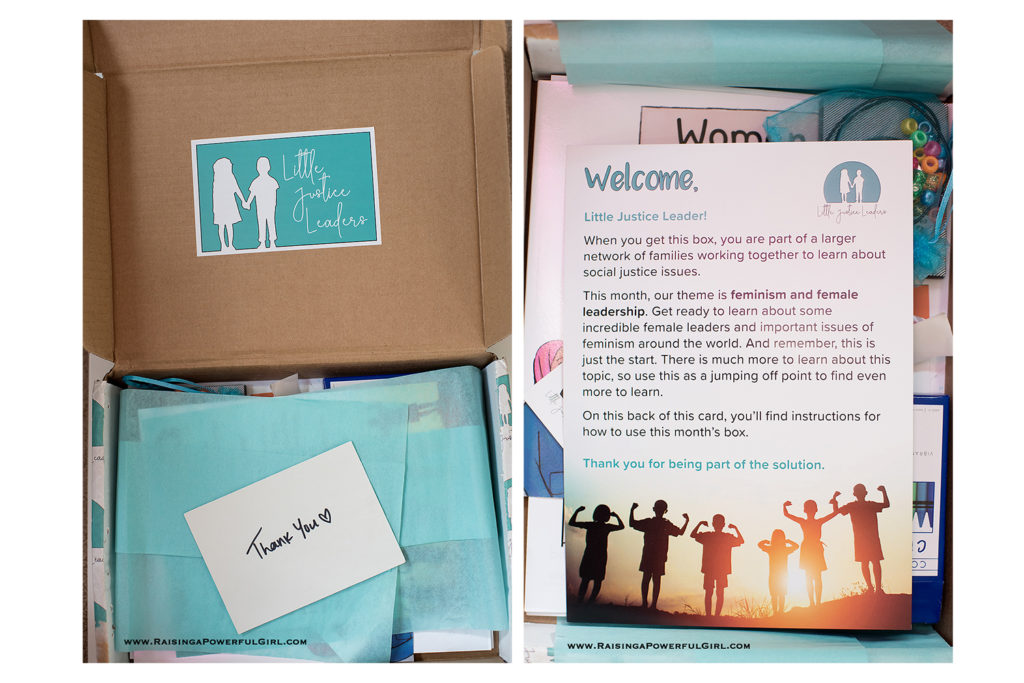 Digging deeper we found all the goodies!
Inside was an incredible book on the Women's March that took place in 2017, as well as coloring pages to go with that lesson. There was also a bookmark with room to create your own design or empowering words to keep your place as you read. A box of 24 Crayons by Color Swell Crayons and what we love about this is that with every product purchased Color Swell will help a child in need of art supplies through the Dreaming Zebra Foundation. Shelby does and AMAZING job of finding incredible products that truly give back!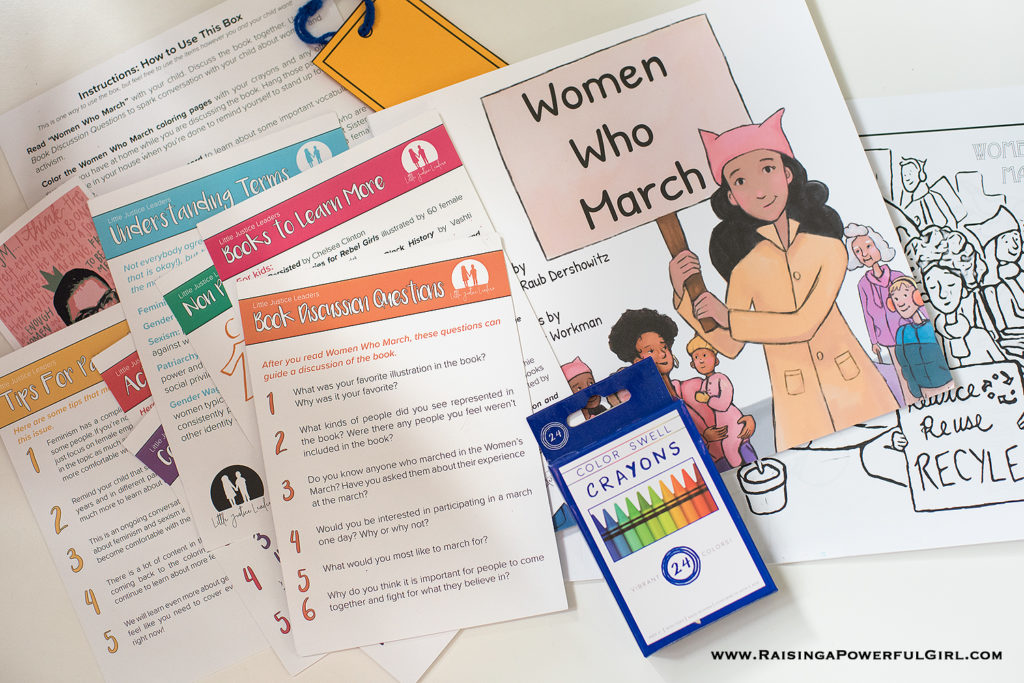 We also found a Coloring book on "Brave Ladies – Who changed the world" by Little Rebel Rosie with short stories and coloring pages highlighting Brave women in History!
There was also a cool Sticker with powerful words by Ruth Ginsberg, a small pouch with beads and string to make a necklace part of an exercise depicted in the directions and A pack of "Persistent Sisters" Trading Cards highlighting other incredible women in history, another company we LOVE!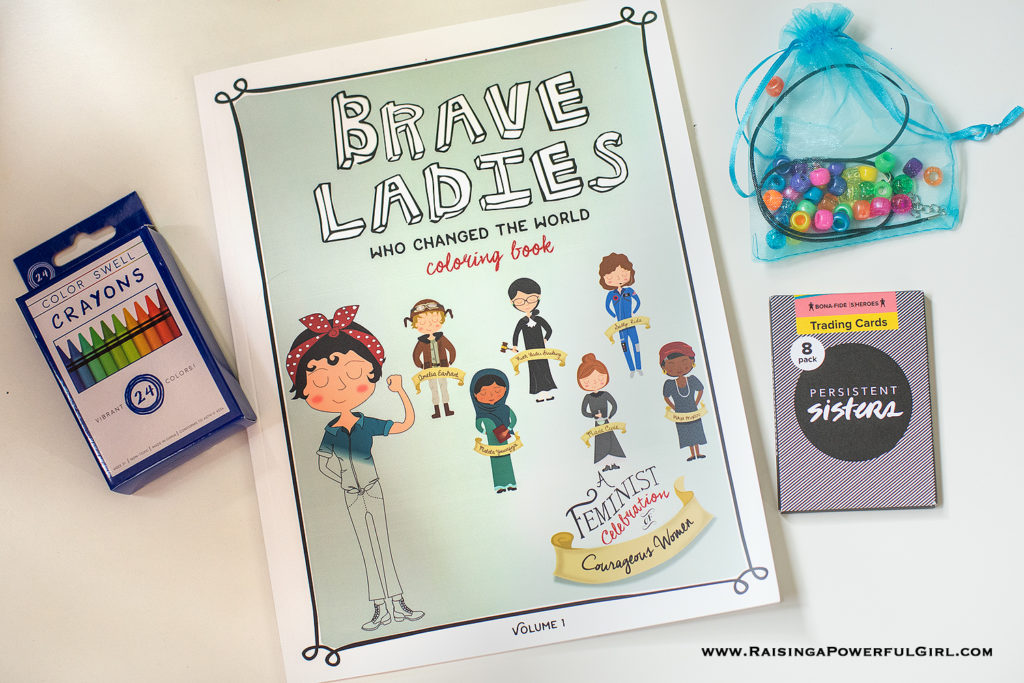 For the kids there are a ton of fun activities for them to take part in and for the parents what I LOVE are the set of cards included in the packet to help facilitate the conversation. There are 7 Cards total
Tips for Parents
Conversation Starters
Book Discussion Questions
Understanding Terms
Books to learn more
Non-Profit Spotlight (who they are donating to with the purchase of this box)
Action Steps
This box is a perfect introduction to these topics and Shelby not only makes it Easy for the parents but fun for the child as well!
You can find out more about Little Justice leaders, Shelby and their Subscription options by visiting
You can use the special Discount Code

RAISINGAPOWERFULGIRL25X2

to receive 25% off your first two boxes!